Mon-Fri: 7.30am – 4.00pm
Sat: 9.00am – 4.00pm
Sun: 9.00am – 5.00pm
Dinner
Wed-Sat: 5.30pm – 10.00pm

Aro Cafe & Aro Coffee
Aro Café is noted as one of the best cafes Wellington has to offer. Just a few minutes drive from the city, we're a bustling oasis of great food and our own house-roasted coffee, Aro Coffee. We are located in one of the city's most colourful neighbourhoods, historical Aro Valley.
Nestled at 90 Aro St, Aro Café is open for business 7 days a week, and 4 nights for dinner, almost all year round. At Aro Café, we are renowned for both Aro Coffee as well as being a favourite brunch destination. Our menu has an interesting selection of seasonal brunch and lunch offerings, daily salads and takeaway pies and sandwiches. In the evenings from Wednesday to Saturday we are open for dinner with an Italian flair. Whilst we are not Italian, we love sharing our passion for Italian flavours both on the table and in the glass. We have a small, well-rounded wine menu including Italian wines and aperitifs along with craft beers that will tickle your taste buds.
At Aro Café, our philosophy is to serve seasonal, fresh, simple food sourced locally when possible. We use organic milk products and free range poultry. Almost everything is made from scratch and with care. This philosophy is also reflected in our coffee that is hand blended and roasted on site. The blend's growing reputation draws coffee connoisseurs from far and wide so be quick as table space on the weekend fills up fast!
Menus
Check out the delicious lunches, brunches & dinners on offer.
Dinner
To Start
Aperol Spritz

14

Cynar & Prosecco

14

Lillet

9

Punt é Mes & Soda

11

Americano

12

Aro Bellini

14

To Eat
Mixed marinated olives

9

Celeriac & gruyere fritters w lemon

10

Bruschetta w goasts cheese, broccoli, garlic & chilli

16

Bruschetta w chicken liver pate & caramelised onion

16

Salt & Pepper calamari w preserved lemon aioli & lemon

17

Jerusalem Artichoke & Parsnip soup w grilled ciabatta

17

Witlof, Roquefort, walnut & pickled pear salad

22

Hand made Pumpkin ravioli w brown sage butter

23

Gnocchi w Brussels sprouts, pancetta & hazelnuts

24

Fresh pappardelle w lamb ragu, peas & Parmigiano

26

Chicken alla cacciatora 'hunter-style" w soft polenta

25

Rabbit & mushroom pie

25

Osso buco w saffron risotto & gremolata

26

Seafood stew w prawns, mussels, monkfish & clams

28

Char-grilled Beef fillet w beetroot & horseradish

28

Sides
Fennel, apple & radicchio slaw

9

Fried Brussels sprouts, almonds & kale

9

Duck fat roasted potatoes

9

Roast Pumpkin, ricotta salata, chilli & lemon

9

Leafy green salad

6.5

Dessert & Cheese
Aro affogato w or w/out Amaretto

7/12

Pannacotta w blackberries

9

Tiramisù

9

Chocolate nemesis

9

Sour cherry amaretti or Panforte

5

Cheese w poppyseed cracker & quince paste

Ask your waiter
Weekend
Bloody Mary or Aro Bellini

14

Toast w homemade spreads

(v) 6

Porridge w sticky prunes, muscovado sugar and runny cream

(v) 12

Cranberry & brazil muesli w poached pears & Zany yoghurt

(v) 14

Bruschetta w smoked salmon, horseradish cream & lemon

16

Bruschetta w 3 mixed mushrooms, chilli, garlic & parsley

(v) 16

Two Eggs (Scrambled, Fried or Poached) w Toast

(v) 11

Add:
Roasted field mushrooms, hot buttery spinach, braised lentils, bacon, Island Bay black pudding or spicy pork and fennel sausage

5 each

smoked salmon, 2 pieces of halloumi

6

Buttermilk hotcakes w poached tamarillos, mascarpone & maple syrup

(v) 20

Chilli scrambled eggs, bacon & rocket

(gf) 16

Poached eggs, braised lentils, buttery spinach & grilled ciabatta

(v) 19

House smoked pastrami hash w fried egg & homemade mustard

(gf) 22

Beetroot soup w sour cream, bread & butter
cup $11
bowl (v) 16
Potato, leek & fish soup w bread & butter

18

Leek, thyme & swiss cheese french omelette w green salad

(gf/v) 19

Panfried halloumi w cauliflower, pine nut currant salad & bread

(v) 20

Pork & beef meatballs w dijon mustard cream sauce & bread

19

Chicken schnitzel w celeriac remoulade & lemon

21

Hand cut ravioli w pumpkin & sage butter

(v) 23

Broken sausage, cannellini, chilli & clam stew w parsley & gremolata

23

Homemade pappardelle w lamb ragu, peas & grana padano

26

Butterhead & mixed leaf salad

(v/gf) 6.5
Paleo/Gluten Free Toast $1
Vegetarian (v) Gluten Free (gf)
We use Zany Zeus Organic Milk, Yoghurt, Feta & Halloumi
Free Range Chickens & Eggs in Our Cooking
Drinks
Sparkles
Riondo Proscesco Veneto
Bottle 32
Glass 8
H Lanvin & Fils Champagne, France

Bottle 80

Lambrusco (Sparkling red)

Bottle 80

Orange & Rosé Wine
Bianco Venezie Orange Wine

Bottle 60

Negroamaro Rosé "Girofle"
Bottle 34
Glass 8.5
White Wine
Vavasour Sauvignon Blanc 2015
Bottle 30
Glass 7.5
Babich Gruner Veltliner 2014
Bottle 32
Glass 8
Maude Pinot Gris C. Otago 2016
Bottle 30
Glass 7
Vermentino Sardegna 2014

Bottle 43

Carrick Chardonnay C. Otago 2014/15

Bottle 72

SP 68 Bianco Terre Siciliane

Bottle 60

Red
Valpolicella Veneto 2015
Bottle 32
Glass 8
Te Kairanga Pinot Noir, Martinborough 2015
Bottle 39
Glass 10
Maude Pinot Noir, C. Otago 2015

Bottle 56

Negroamaro Salento Puglia 2014
Bottle 29
Glass 7.5
Ata Rangi Celebre Syrah Martinborough 2013/14

Bottle 66

Chora Rosso Calabria 2012
Bottle 32
Glass 8
Monica della Sardegna 2013

Bottle 55

Te Mata Awatea Cabernet Merlot Hawkes Bay 2015

Bottle 59

Beer & Cider
Peroni

8

Panhead APA Supercharger

9.5

Panhead Pale Ale Quickchange XPA

9.5

Emerson's Pilsner 500ml

14

Parrot Dog Dead Canary Pale Ale

9.5

Amstel Light

7

Selection of Garage Project

9

Moa Cider

8

Non Alcoholic
Hardieboys Freshly Pressed Orange Juice

6

Housemade Aro Soda – Ask your waiter

6

Phoenix Range of Juices

4.5

Hardieboys Ginger Beer - Dry or Regular

5

Sparkling San Pellegrino Water

6

Coca Cola, Schweppes Lemonade

4
A 15% Surcharge Applies on Public Holiday
What's On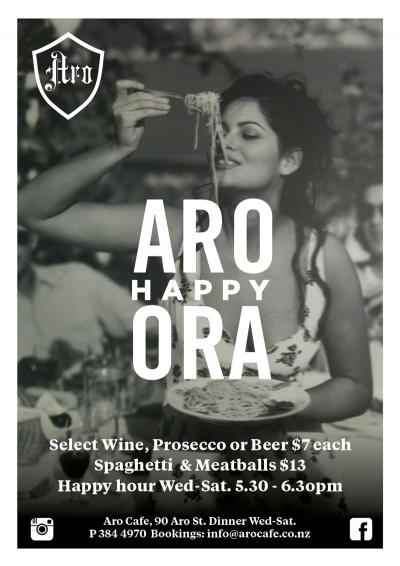 Contact
See our Facebook page and Instagram for food styling.
Opening Hours
Mon-Fri 7.30am – 4.00pm
Sat 9.00am – 4.00pm
Sun 9.00am – 5.00pm
Dinner
Wed-Sat 5.30pm – 10.00pm